All you need to know about public transport tickets in Budapest
Travelling to a new city can be daunting, there are so many things you should know about. How to use public transport? Where to buy the tickets? How to validate them? Believe me, in Budapest it's so easy. Let me show you how to travel in Budapest like a local. All you need to know about the public transport tickets in Budapest.
Where to buy tickets for public transport in Budapest?
Almost everywhere in the city you will find ticket machines, but how to recognise them? Well the machines are purple with a bit of grey colour so you cannot miss them. While using the machines you don't have to worry about the language barriers, you can easily switch between the languages. All you need to do is to press the chosen flag at the bottom of the screen. At the end of your purchase you have the opportunity to pay with cash or credit card, so having cash with you is not necessary. If you don't trust in machines, ticket offices are also available at the bigger or main stations all around the city. In most of the times you can find them in the subways, just follow the Metro sign. But unfortunately as far as I experienced they don't have a really good skill of any foreign languages. Anywhere you decide to buy the tickets, always keep the receipt, just in case. What to do if you run out of tickets but still need to use public transport? No need to worry. You can buy a ticket from the drivers on board, but only in cash, only in Hungarian forint. In this urgent situation the ticket costs a bit more, 450 HUF (which is around 1,5 EUR/ 1,5 USD).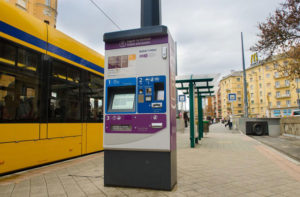 Travelcard system in Budapest
In Budapest there are many types of tickets and travel cards or passes (24-hour, 72-hour, seven-day…) available. With the travelcards you can use any of public transport (subway, bus, tram, trolley bus) unlimited. For sure tickets are also available for a single journey, see below. If you plan to use a lots of public transport during your stay, the travelcards are the best options available. The most popular travelcards are the followings:
24-hour Budapest-travelcard costs 1650 HUF (5 EUR/ 5,5 USD)
24-hour group Budapest-travelcard costs 3300 HUF (10 EUR/ 11 USD) – valid for a group of maximum 5 people travelling together at the same vehicle for 24 hours
72-hour Budapest-travelcard costs 4150 HUF (13 EUR/ 14 USD)
Seven-day Budapest-travelcard costs 4950 HUF (15 EUR/ 16,5 USD)
Using any of the travelcards for unlimited journey is a good idea, no need to worry about validating them. You will see the expiration date on it, you just need to show it to the controllers. It's so easy!
If you plan to use tickets during your stay in Budapest, a single ticket costs 350 HUF (~1 EUR/ USD) at the moment. With a single ticket you can use any of public transport (subways, buses, trams, trolleybuses) but be careful about validating them. Tickets need to be validated at the time of boarding. On the subways before taking the escalator, so before entering. On trams and buses look for the orange coloured small machines on board. With the numbers up put the ticket into the machine and if you hear a quick sound, you are ready, your ticket is valid for one journey. Don't forget that each time you change, you need to validate a new ticket. Even if it's only one stop with the tram. That's why passes are a good idea, if you travel with public transport everywhere. Don't be surprised, but controllers really often check the tickets while travelling. Having a ticket in hand is not enough to avoid a fine, it has to be validated. One ticket costs around 1 EUR/ 1 USD but the fine is relatively expensive, around 55 EUR / USD at the moment, so better not to risk.
For more information about the ticketing system in Budapest, you can check Budapest Transport Company's website.