How to get around in Budapest
As a first time visitor in Budapest getting around in the city might seems challenging, but no worry, in Budapest it's so easy. Which lines to use? How to get around? What about cabs in Budapest? Let's see how to get around in Budapest like a local!
How to get around in Budapest?
Walking:
In Budapest walking is definitely one of the best ways to get around. Most of the sights are close to each other. And for sure the more you walk, the more you can discover. Don't hurry and take your time to scroll down along the river, cross the bridges to get to the other side. Walk among the cobble-stoned streets in the Castle District on Buda side and make sure you don't miss the vibrant streets of the Jewish Quarter on Pest side. Would love to see the city with a local's eye? Don't hesitate to check my private guided tours for a real local Budapest experience. See the face of the city most don't see.
By public transport:
Budapest offers a really well organised public transport system. Travelling with city dwellers is part of the local experience, a fun thing you should try. Budapest street system was built after the city structure of Paris, France. It has boulevards and avenues connecting the smaller streets. While discovering Budapest I recommend to try everything: buses, trams, subways and trolleybuses. Public transport tickets are valid for all kind of public transport mentioned, no need to buy any special ticket. About the ticketing system you can read in my previous post All you need to know about the public transport tickets in Budapest. Let's see which lines not to miss.
One of your best friend will be tram nr. 4 or 6, the longest tram line of Budapest. It connects Pest side with Buda side on two bridges and most of the main squares can be reached with. However try to avoid using this tram during the peak time around 9 AM and 5 PM, it can be really crowded.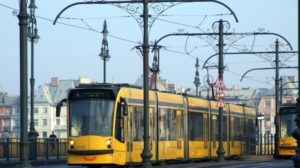 One of the most wonderful tram line of Europe is tram nr. 2, the sightseeing tram line of Budapest. It takes you to the World Heritage part of the city, along the romantic river bank. You can see the Central Market Hall, Liberty bridge, Elisabeth Bridge, Chain Bridge and the Parliament building while admiring the breathtaking view of river Danube. 
While getting around in Budapest by public transport don't miss the opportunity to try the first metro (underground) of Central Europe, the Millennial Underground (metro line 1, yellow line). With a fairy-tale interior flying back to the 19th century it feels like you are stepping to a movie set. Metro line 1 operates between the city centre (Deák Ferenc square) and the city park where the Heroes' Square monument and the Széchenyi Thermal Bath can be found. 
One of the most famous part of Budapest is the Castle District, with the marvellous Fisherman's Bastion, Royal Palace and Matthias Church located on Buda side. Most of the visitors are using the funicular to get to the Castle District, however it can be reached by public transport too. Bus nr. 16 or 16A departs from the city centre (Deák Ferenc square) on Pest side and takes you up to the Castle hill for the price of a sparkling water. No need to waste your money, you can try a traditional strudel up in the Castle instead. 
By a cab:
Cab prices in Budapest are regulated by law across all taxi operators. The fare includes the base fee (700 HUF~ 2 EUR/ 2,5 USD) plus the distance-based charge (300 HUF/km, or ~1 EUR/ 1 USD). No need to worry about having cash with you because all the cabs are required by law to accept credit cards. But how to recognise a taxi in Budapest? Licensed cabs are always yellow with black letters and you can see the company logo on top or on the doors. Getting around in Budapest by a cab seems easy but be careful hailing a cab or taxi on street. There are many independent "freelancer" drivers unfortunately and they might charge you with a much higher price. Their cars are also yellow so how to recognise a licensed cab? Drivers belonging to a licensed company always have the company logo and the fares written on one of the front door.
To avoid any inconvenience it's absolutely safe to call one of the best companies like Főtaxi (+36 1 222 2222) or City Taxi (+36 1 211 1111) or you can use Bolt app (Taxify company's new name) as well.