Ecofriendly ways of getting around in Budapest
Big cities like Budapest with many visitors are facing with a huge problem all around the world: the air pollution. Sightseeing with hop on hop off buses is unfortunately part of the problem. But what can we do instead? Let's see how to get around in Budapest on a nature friendly way. Don't forget: travelling can be eco friendly. 
Budapest is a really walkable city and for sure this is one of the best eco friendly ways of getting around. Walking in Budapest gives you the opportunity to explore off the beaten tracks far from the crowd. Don't miss to roam around in the city while exploring the colourful architecture and secret courtyards. If you would like to see the city from a city dweller's perspective, check my private guided tours for a local experience.
#Try BuBi (Budapest Bike)
If you are looking for a fun adventure you should try BuBi . BuBi (Budapest bike) was the first bike sharing system of Budapest. Planning your trip with a bike rather stay on the flat Pest side. Buda side with the hills can be a bit challenging by bike.
To rent a BuBi, quickly register online or at one of the docking stations. (See the map on the official BuBi website).
Let's see the prices:
24 hour (500 HUF ~1,5 EUR/1,7 USD)
72 hour (1.000 HUF ~3 EUR/3,4 USD)
weekly passes (2.000 HUF ~6 EUR/6,8 USD)
While using BuBi you just need to set a timer for 30 minutes, which is the maximum time of usage for free. What to do when 30 minute is over? Let's go and find a docking station to get a new bike. Be careful to return the bikes on time, over 30 minute additional fees apply. If you use BuBi don't be surprised the system will charge you with a fully-refundable deposit of 25.000 HUF (~78 EUR/86 USD) for security reasons. When your ticket expires, the deposit will be automatically released.
"More diversity, less car use". This is the motto of LIME, the electric scooter sharing system of Budapest. Finally the scooters have arrived to Budapest, offering a cool way of discovering this bustling city. No need to find a docking station, you can leave it anywhere you want (within the zone, green area). Just download the app (for iOS) or (for Android), register and you can unlock the scooters with a QR code. The unlocking fee is 250 HUF (~0,80 EUR/0,86 USD) and the usage costs 50 HUF/ minute (~0,15 EUR/0,17 USD). When your ride comes to the end with LIME scooter, don't forget to double check if you left the scooter in the green area within the zone. You cannot leave your scooter in the 5th district in Budapest, so better to double check your location.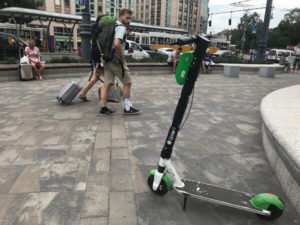 #Make life a ride with a Blinkee moped
"Renting a vehicle for minutes has never been so easy". As the motto of Blinkee says. Blinkee is a new generation of electric moped service. You just need to download the app (for iOS) or (for Android), create an account, find the nearest moped, book and enjoy the ride without traffic jam. All you need to have is a driving license for at least AM category, older than 6 months. And how much does it cost? Blinkee costs 49 Ft/minute (~0,15 EUR/ 0,17 USD). The maximum all-day fee for using the moped is 6 400 Ft (~20 EUR/22 USD). While using a moped anywhere in Hungary, don't forget to put a helmet on. In Blinkee.city you can find it in the trunk. Don't be surprised there is only one helmet in the bike, in Hungary you cannot ride a moped together. One moped, one person. Keep in mind to avoid the fine. With Blinkee you can use the bus lines everywhere, but stay away from the pedestrian streets.
GreenGo is the first electric car sharing system in Budapest offering an eco friendly alternative to the city dwellers. If you don't have a Hungarian driving license, the registration can be made in the GreenGo office. For the registration you need to have a bank card registered which costs you only a technical 100 HUF (0,30 EUR/ 0,33 USD) transaction, but it will be refunded immediately. The registration itself costs 4.900 HUF (15 EUR/ 16 USD) but you can use it for your drive, it will be credited on your GreenGo account. With GreenGo you don't have to wait for anybody,  just jump into the car and enjoy your drive, the parking will be free of charge. The usage costs 80 HUF/minute (0,24 EUR / 0,26 USD). While using GreenGo leaving the zone is ok, but you will hear a beep when you left it. However you need to pay attention on not to park outside of the zone. If you booked the car, don't change with your friends, you have to drive, otherwise you can get a fine! Last but not least GreenGo is not allowed to use the bus line in Budapest.